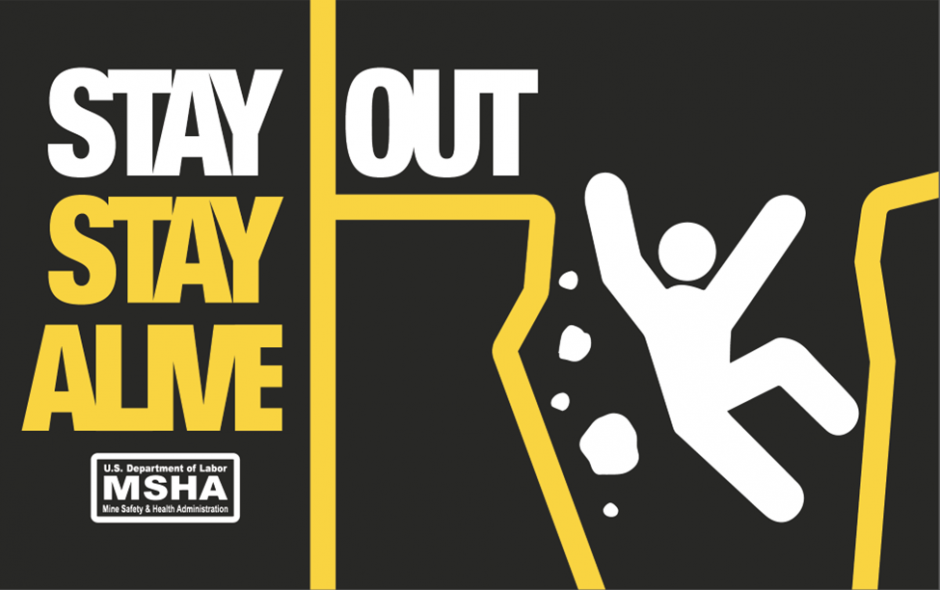 Active and abandoned mine sites are dangerous, potentially fatal
There are approximately 14,000 active mines and about 500,000 abandoned mines throughout the nation There are mines in every state. This makes the possibility of encountering an active or abandoned mine likely in those areas.
Active and abandoned mine sites pose serious risks to people untrained and unfamiliar with the site. Each year, explorers, hikers, and off-roaders are injured or killed while exploring, swimming, or playing on a mine property.
As students return to school while the weather is still warm and water seems inviting, it is more important than ever to remind people to stay out of abandoned or active mine sites like quarries, tunnels, and pits.
Stay Out, Stay Alive is a nationwide public awareness campaign to educate children and adults about the hazards of exploring and playing at active and abandoned mine sites. Furthermore, the safety initiative's primary mission is to remind people of the one and only key safety practice when encountering an active or abandoned mine site. That is: STAY OUT - STAY ALIVE.
You can learn more about the different hazards found at mining operations below.
EXAMPLES OF HAZARDS AT ACTIVE AND ABONDONED MINES:
Explosives and Chemicals
Active and abandoned mines may be housing explosives. These materials can become unstable overtime and explode spontaneously. Explosive housing containers can also leak toxic chemicals.
Underground Tunnels
Many mines contain miles of underground tunnel. Without proper lighting, people can easily become lost and disoriented while inside. Publicly available maps are oftentimes outdated.
Open Pit Quarries an Highwalls
Water-filled quarries and pits hide rock ledges, machinery, electrical currents, and other hazards. The water may look refreshing but can be deceptively deep and dangerously cold. Steep, slippery walls can make exiting the water difficult.
Gases and Lack of Oxygen
Thousands of gas wells penetrate coal seams at active and abandoned mines. An inadvertent intersection with one of these wells could inundate the mining section with methane, carbon dioxide, and other deadly gases. These gases can displace oxygen with no visible sign, causing suffocation.
Decayed Support and Unstable Rock
In a mine tunnel, roof and rib frameworks can decay over time creating fractures. This weakens the support from unstable rocks and can cause the tunnel to collapse.
Open Shafts
Many vertical shafts can be hundreds of feet deep and completely unprotected or hidden by vegetation, mine debris, dirt, rock, and water.