Accident Report: Fatality Reference:
METAL/NONMETAL MINE FATALITY - On October 24, 2012, a 52-year old utility miner with 19 years of experience was killed on the surface of an underground limestone mine. He was operating a forklift, traveling on a decline toward the mine entrance, when the forklift went out of control. The forklift struck a concrete support for the belt conveyor and overturned, killing him.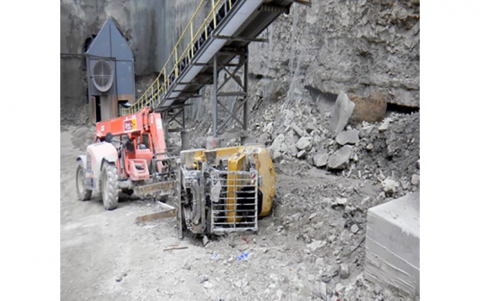 Best Practices:
Conduct adequate pre-operational checks and ensure the service brakes are properly maintained and will stop and hold the mobile equipment prior to operating.
Ensure that mobile equipment operators are adequately task trained in all phases of mobile equipment operation before performing work.
Ensure the load is stable and secured on the forks of the forklift.
When descending a grade, operate the forklift with the load in the upgrade position.
Maintain control of self-propelled mobile equipment while it is in motion.
Operating speeds shall be consistent with conditions of roadways, tracks, grades, clearance, visibility, curves, and traffic.
Operate equipment within its designed limitations. Slow down or drop to a lower gear when necessary. Post areas where lower speeds are warranted.
Always wear a seat belt when operating self-propelled mobile equipment.
Additional Information:
This is the 16th fatality reported in calendar year 2012 in the metal and nonmetal mining industries. As of this date in 2011, there were 10 fatalities reported in these industries. This is the 6th Powered Haulage fatality in 2012. There were 2 Powered Haulage fatalities in the same period in 2011.